Our Certifications
Jaymak Australia Head Office, and our international franchisee network, consistently work hard in all of our cleaning practices, to achieve our ISO accreditation status.
We are the only ISO accredited food services provider in Australia and New Zealand, and we are very proud of this status. We feel it sets us apart from all other hygiene and cleaning specialists in the Australian and New Zealand marketplace.

After gaining ISO 9001/22000 accreditation in 2006, we have expanded our food safety management systems to include more than just coolroom hygiene. This has provided us with the ability to provide a unified national and international standard in hygiene cleaning for all of our clients.
Why our certification benefits our customers
It is vital for the future operation of your business, for the safety of your customers and workers, and for peace of mind in terms of risk exposure, to keep all areas of your food business, clean, hygienic and therefore safe.
This involves not only the use of good operational practices and routines on a day-to-day basis, but the employment of regular outsourced specialist hygiene cleaning.
Using an accredited provider to keep your business clean and therefore safe and risk free provides the following benefits.
1. Protect your reputation and your brand
Using an accredited hygiene and cleaning specialist is an investment in your brand and reputation and will ensure you have the confidence in knowing that you are preparing food in a safe and clean environment.
2. Your business insurance and liability risk
The food services industry is rigidly regulated. The liability penalties are high if standards are not met. Using an accredited provider will ensure that your business is compliant with these standards and if something does go wrong, your risk and responsibility is covered.
3. Achieve best organisational efficiencies
A clean business is a cost efficient business. Clean air conditioning units, cool rooms, overhead fans, ovens, ice machines, refrigeration and even dishwashers will be quicker, more energy efficient, do their job better, last longer and cost you less if they are regularly and properly cleaned.
4. Consumer protection and safety
Customers know their rights, understand what they like and can be critical of anything less than the best. Using a certified hygiene and cleaning specialist will ensure you provide a clean environment for your customers and will keep your business safe, the risk and stress low, and the good word of mouth coming.
5. Whole food chain process – best operational standards
It is important to not only be thorough in your food and hygiene cleaning practices, but also to be consistent and take a total approach. Using an accredited provider, with a recognised certification, will mean that they will have the correct cleaning processes to ensure that you do too. If you choose the right cleaning specialist it will also ensure that your whole environment and your food chain process is taken into consideration.
6. Reducing risk
Essentially this is what it is all about – reducing risk. For everyone. This is the key reason why it is so important to use an accredited provider and why Jaymak strives every day and with every service to achieve and even exceed their standards.
ISO 9001 Quality Management System & ISO 22000 Food Safety Management System Certification
ISO 9001 is an internationally recognised Quality Management System. A quality management system (QMS) is a set of policies, processes and procedures required for planning and executing the core business of an organisation and serving customers.
ISO 22000 is a standard developed by the International Organisation for Standardisation dealing with food safety.
The ISO 22000 standard specifies the requirements for a food safety management system that involves the following elements:
interactive communication
system management
prerequisite programs
HACCP principles
Critical reviews of the above elements have been conducted by many scientists. Communication along the supply chain is essential to ensure that all relevant food safety hazards are identified and adequately controlled at each step within the process.
Recognition of the organisation's role and position within the food chain is essential to ensure effective interactive communication throughout the chain in order to deliver safe food products to the final consumer.
The most effective food safety systems are established, operated and updated within the framework of a structured management system and incorporated into the overall management activities of the organisation.
ISO 22000 integrates the principles of the Hazard Analysis and Critical Control Point (HACCP) system and application steps developed by the Codex Alimentarius Commission. By means of auditable requirements, it combines the HACCP plan with prerequisite programs. Hazard analysis is the key to an effective food safety management system, since conducting a hazard analysis assists in organising the knowledge required to establish an effective combination of control measures. ISO 22000 requires that all hazards that may be reasonably expected to occur in the food chain, including hazards that may be associated with the type of process and facilities used, are identified and assessed.
In comparison with ISO 9001, the standard is more procedurally orientated guidance as opposed to a principle based one. Apart from that, ISO 22000 is an industrial-specific risk management system for any type of food processing and marketing, which can be closely incorporated with the quality management system of ISO 9001.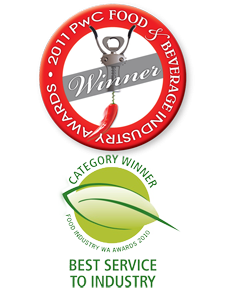 Food Industry Association Western Australia Best Service to Industry Award 2010 & 2011
"The annual PwC Food and Beverage Awards acknowledge the innovations and successes of WA's best food and beverage businesses, recognising those that lead their fields and are simply the best of the best in supply chain management, marketing, food service, retail product development and addressing the issues of environment and sustainability."
David Lock
FIA Chairman
Jaymak Perth was selected from a panel of finalists as the winner of the 'Best Service to Industry' Award by the Food Industry Association in Western Australia in both 2010 and 2011.  Jaymak Perth faced some excellent competition, and feel very proud of the recognition we have received within the industry.

2011 SAI Global Systems Excellence Award Winner
Food Safety Management Systems – Services to the Food Industry
After gaining ISO 9001 / 22000 accreditation in 2006, we have expanded our food safety management system to include more than just coolroom hygiene.
At Jaymak Australia, we can protect our customer's brand and reputation as well as reduce liability exposure through good risk management and food safety practices.
Certification was originally undertaken so that Jaymak would stand out in the marketplace and ensure we could compete in an increasingly competitive market. Since gaining an accredited food safety management system, the organisation has been able to provide a unified national and international hygiene standard in coolrooms for all of our customers which ensures safety and reliability.
Winning the 2011 Systems Excellence Awards is a result of a team effort by Jaymak management and franchisees.
"We are very proud of our team's performance in embracing the system. It is a credit to the management team and our franchisees in achieving this high level of hygiene and food safety management for our customers."
Mark Mackenzie
Managing Director